Malin+Goetz Apothecary
Madison Avenue, New York, NY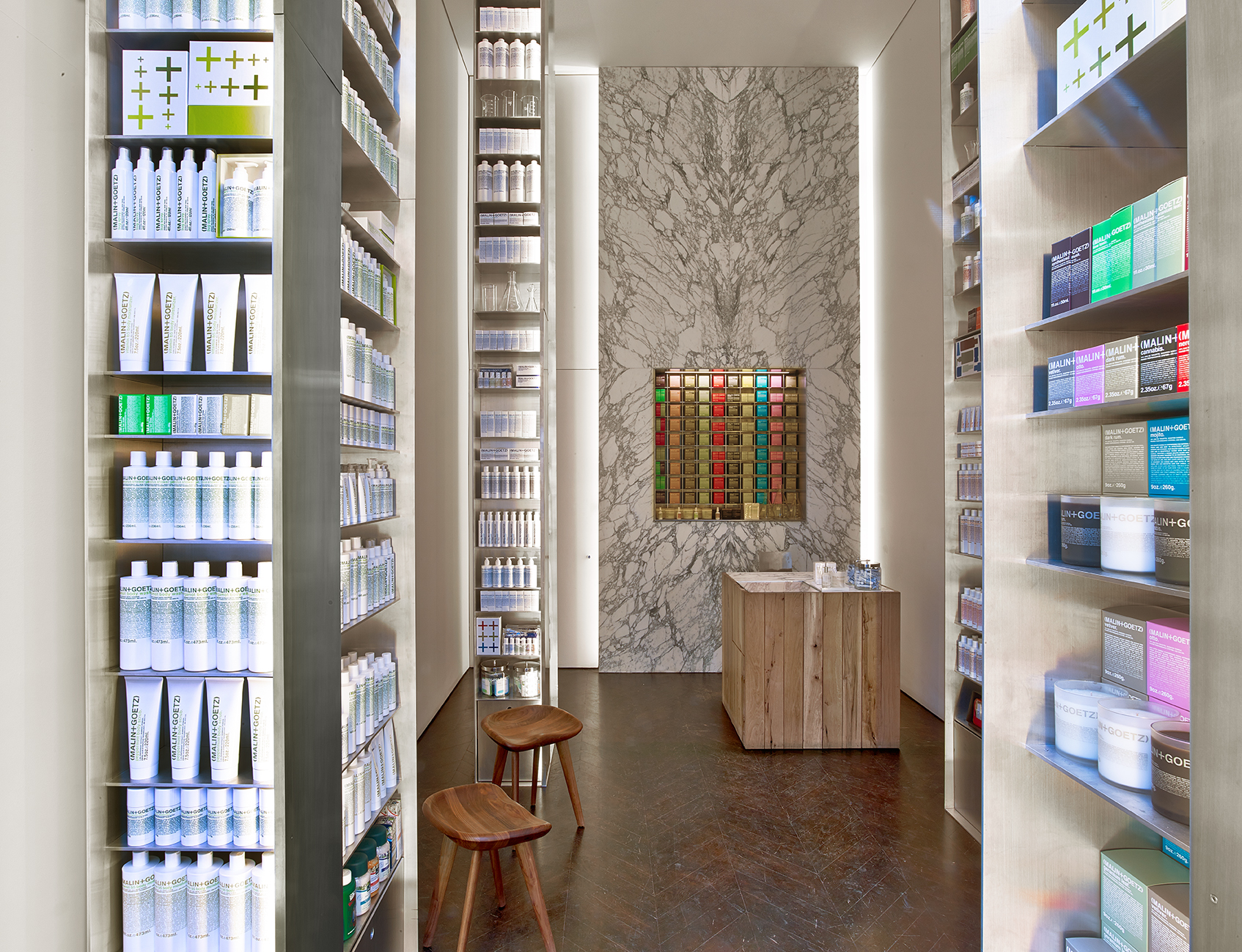 Malin+Goetz Apothecary
Madison Avenue, New York, NY
Our client, Malin+Goetz entrusted us with designing their third NYC store. Even though their visual identity is minimal with unified color-coding, they requested us to create a space that accommodates to the Upper East Side demographics by providing a traditional customer experience. Therefore it was crucial to have a layout that is clean-cut so if someone entered the store they would understand its functionality immediately. We were also focusing on using materials that are familiar for the potential customers in the neighborhood.
The tiny existing space, originally functioning as a dry-cleaner, had a mezzanine level that we demolished in order to free up the 16 foot high headroom. This challenging verticality helped us to develop our concept with the traditional store layout extruded to the full height.
The retail space contains four 16 foot high shelving units, a POS desk and a marble wall with inbuilt pigeon holes.
The dynamic tension between the small floor area and the monumentality of the free-standing shelving units reflects the NYC urban environment. These units have similar structure as tower buildings with their facades populated by the products. Our influence among other things was the triplet of I.M. Pei's Silver Towers in NOHO.
Amongst the shelving towers of the store the POS unit serves as a focal point with its human scale. Finally the marble wall serves as a noble background to the composition of the retail units.
The materials of the shell of the space are juxtaposed with the materials of the towers: the dark, stained wood floor with its chevron pattern and the Arabescato marble with its prestigious veins represent a traditional beauty; however the stark lines of the aluminum units and the reclaimed oak POS box were influenced by the minimalist artist, Donald Judd.